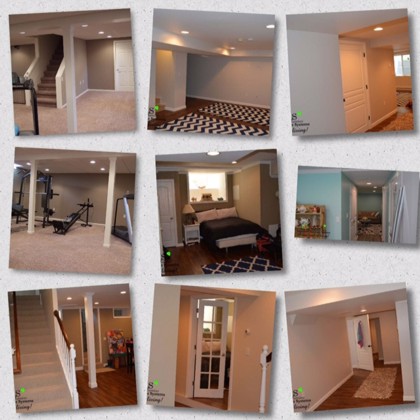 Spring… I know we all can't wait for it to get here every year. Goodbye snow… I love seeing it melt. Can't wait for grass growing, flowers blooming, longer days, more sunshine, we all have so many plans for Spring. Spring cleaning is definitely on my list and after the long winter we've had, I'm looking forward to getting down into my basement and finally cleaning it out. Living in Norwell Massachusetts i know how important it is to keep an eye out for any cracks or leaks in a basement, especially with all the snow melting around the foundations outside, and I for one, will be moving out most of my useless storage and preparing the space for a Basement finishing.
Recently, I came across information about this basement company regarding Mold and Mildew Proof Basement Finishing Systems that are available. Because water and humidity in the basement seem pretty hard to avoid it caught my attention right away . What they were talking about was everything that i have been concerned about when thinking about finishing my basement. Wow finally someone figured it out, and i could not believe that here they are located less than 2 miles away from my home on the South Shore in Hanover Ma. This is exactly what I've been looking for, who wouldn't want walls that are made specifically for the basement that are waterproof and mold and mildew proof? A nice design plan for the basement is NOW a great idea, so this Spring, I plan on moving forward with that long overdue basement remodel? The info below is from the Kaks Basement website www.impressivebasementsboston.com this is just a little sample of what they talk about, if you want to know anything about finishing a basement this is the place!
First tip: Keep an eye out for mold. Mold needs a source to grow, and there are five ingredients necessary for mold growth – food source, air, moisture, suitable temperature, and a surface to grow on. Paper, wood and other organic materials like carpet, for example, are conducive to mold and mildew growth. Drywall is lined with paper, studs are usually made of pine wood, definitely not suitable materials for the basement since mold growth in basement walls is a serious home health concern. Long-standing moisture problems can lead to decay, resulting in structural damage to the house. Have it checked by a professional, then choose a basement wall finishing company that specializes in building basements with proper materials.
Second: A good dehumidifier is recommended for the basement at all times to control moisture in the air. Keeping the humidity low is key. Air quality in the basement is important. Go with certified green, eco-friendly materials that aren't detrimental to the basement.
Last tip: The cost of a full Basement Finishing System is about the same as a conventional drywall basement. That seems hard to believe, until you get a price from a basement refinishing company with all electrical, waterproof flooring and better quality materials than a general contractor could give. Go get a free basement evaluation, and not from the local handyman.
NOW, my basement plan is for drywall-free walls and yes, a plastered wall finish, with a relaxing, light paint color. With having the same looking walls from upstairs in the downstairs basement: strong, durable, plus mold and mildew-proof, and paintable! Once it's finished, it will be a seamless look into my new family room, and cleaning the basement should finally be a breeze. No more dreaming about it…
Spring is reminding me that it's time to get started and clean out the basement.