How much does it cost to finish a basement
A good average cost to finish a 500 to 1,000 square foot basement per square foot in the greater Boston area complete with walls, ceiling, electrical, doors, trim, heat & permits would range from $45 to $75 per square foot in 2016-2017. The national average cost to remodel a basement is about $32,000.
When Comparing Cost Per Square Foot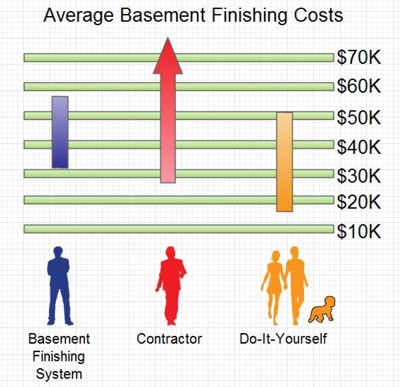 Cost Per Square Foot? The cost per square foot can get one confused. The cost per square foot is based on the layout & materials selected…
Our Basement Finishing Product Cost vs Drywall & Others
Because our basement finishing materials are high-end materials, they will initially cost more than others for obvious reasons, but will cost less in the long run and here's why:
Our advanced products are designed for the basement environment making them maintenance free & low vulnerability with important built-in features that make them mold & moisture-proof. This means that the walls do not contribute to mold growth and will not bend or rot due to high levels of moisture and will never need replacement. And because they are the most durable products available they will not dent, break or stain, once again never needing replacement. And with an industry leading R- value you will save money on energy bills by conserving energy.
While drywall works well for above grade, it's not designed to handle the existing conditions present in the basement, leading to replacement & in fact costing you more possibly even double. Fast Basement Finishing Systems are of much lower quality, durability & look often with a lower price, devaluing home resale value. Our tailor-made products are the wise investment.
Our Cost Is Simple And Transparent:
Best possible pricing
Guaranteed best products- last a lifetime, never replace.
Exact pricing!
No sales commission or unnecessary fees.
No Franchise fees – saving you lots of money.
There Is No Wasted Time.
No Uncalled-for Negotiating.
No lengthy Presentations.
No Pressure.
Design & Quoting Process – Done by only licensed & experienced professionals
Fast, Easy At Your Convenience!
FREE In-Home Evaluation
If you would like to get an idea of what your basement could cost please feel free to give us a call @ 781-871-8887 where we can discuss pricing. And if at that point you would like to set up a time for us to come to your home For A FREE In-Home Evaluation and take measurements and talk about design ideas, we would schedule a time that would be most convenient for you.