Yesterday was so much fun here at KAKS Basement Finishing and Design. Bryan (design consultant) and I Kaylynne (Project manager) came into work yesterday and got a huge surprise from our boss Steve (owner). He packed us in his car and said we are going on a little road trip to Danvers, MA. There is never a boring day here at the office and that road trip was far from boring, boy can Bryan sing! "You are nearing your destination" the navigation said and we noticed this gorgeous neighborhood we were in. Then we pull up to this huge beautiful brick house. Still not knowing what is going on me and Bryan followed Steve into the basement to find two of our greatest installers Curt and Scott. At this point they have already framed out the basement with our steel studs and they were in the process of putting up the ceiling grid. It looked wonderful down there! Curt and Scott are just so neat and clean and you can barely tell these two guys were working so hard out of the basement, and so efficiently!  Next thing we know we have people with cameras down there!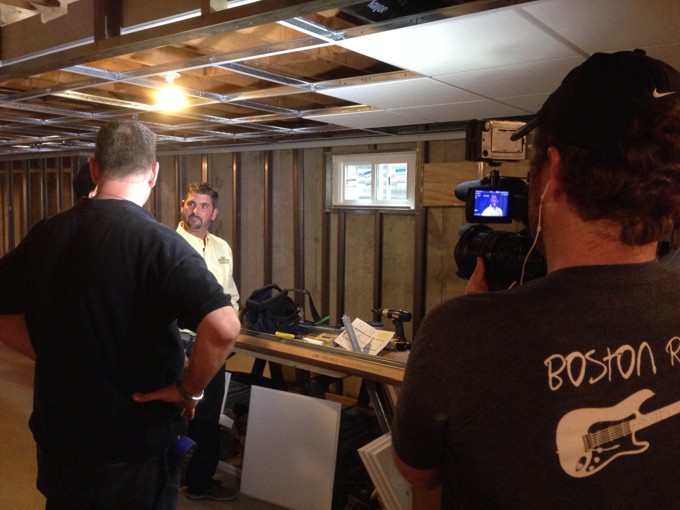 Come to find out we were in the middle of our first basement remodeling  shoot for our fourth feature on A&E's New England based  hit series Flipping Boston.  We met with one employee from Departure Films Carly and she explained the story line to us. Bryan and I were in "AWE" thinking that this was such an amazing experience actually getting to see how the T.V. show is created. It was extremely mind blowing. After she explained everything to us and how it was all going to operate we met the stars of the show Dave and Pete.
The story line Carly prepared for us for this episode is by far the most important one of all. She had mentioned that some of the show would be filmed at the job site and some at our newly renovated showroom located at 155 Webster street Hanover, MA.  This episode is extremely important to us because there are a lot more focal points on our basement finishing product and company. During each take they were having a conversation about the benefits of our company and the products benefits. Three main topics Dave kept bringing up were how awesome the products perform in a basement environment, how it greatly reduces the sound and noise, and how much value it will add to your home. He kept saying how beneficial it could be for someone with kids to have this type of space in their home. It is important to know the basement environment and how important it is to use the right products when finishing a basement. Our wall panel system that is completely breathable and made out of 100% recycled materials does not contribute or create mold or mildew, such as traditional building materials like drywall or other organic building materials. So between the dent resistant sound proofing wall systems, to the acoustical ceiling tiles, to the scratch and stain resistant vinyl flooring these products are hands down superior to any other product. Also with this being environmentally friendly it adds great value to your home for resale.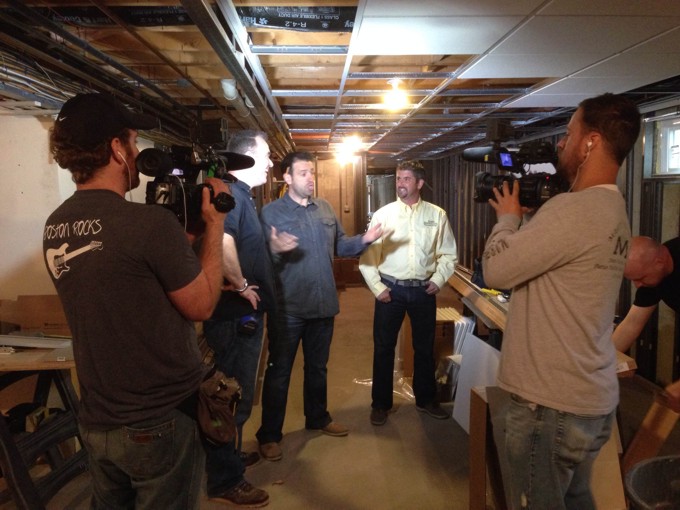 Talking and having a conversation with a bunch of cameras in your face is far from easy. Although working with Dave and Pete it seemed to be a breeze for Steve. The conversations were flowing so naturally and they were very funny and quite entertaining. They kept cracking jokes and busting out some funky dance moves (cutting the rug).So the moral of my story and what me and Bryan learned is that Reality Television is easiest when you just let go and be yourself. Steve eventually didn't even realize the camera was there. We greatly appreciate this opportunity and would like to take the time to thank A&E's Flipping Boston, Departure Films, City Lights, and Dave and Pete.