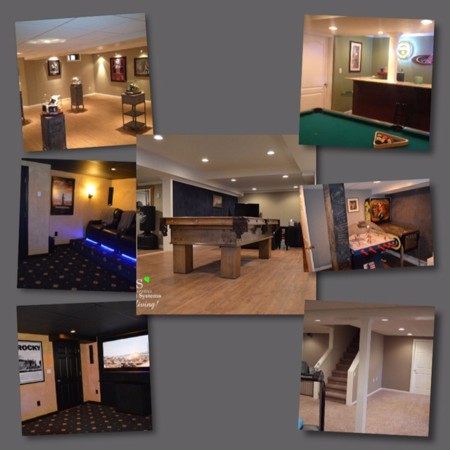 Recently, I came across some interesting and valuable information on Mold and Mildew-proof Basement Finishing Systems, because water and humidity in the basement seem pretty hard to avoid. Who wouldn't want walls that are stain resistant, and mold and mildew proof, now that it's available? A wall system that also comes with a transferable lifetime warranty is the new concept. A nice design plan for a basement refinishing is a great idea for any family needing more living space, so this year, why not plan on moving forward with a long overdue basement remodel?
First tip: Keep an eye out for mold. Mold needs a source to grow, and there are five ingredients necessary for mold growth – food source, air, moisture, suitable temperature, and a surface to grow on. Paper, wood and other organic materials like carpet, for example, are conducive to mold and mildew growth. Drywall is lined with paper, studs are usually made of pine wood, definitely not suitable materials for the basement since mold growth in basement walls is a serious home health concern. Long-standing moisture problems can lead to decay, resulting in structural damage to the house. Have any concerns checked by a professional, then choose a basement wall finishing company that specializes in building basements with proper materials.
Second: Look into a good quality dehumidifier. You can even attach a pump and tubing to your dehumidifier and have it plumbed to drain on its own. You will never have to empty out the water tank, and it will always be working. A dehumidifier is recommended for the basement at all times to control moisture in the air. Keeping the humidity low at all times is key. Air quality in the basement is very important. Go with certified green, eco-friendly
wall finishing materials that aren't detrimental to the basement environment or your family.
Last tip: The cost of a full Basement Finishing System is about the same as a conventional drywall basement. That seems hard to believe, until you get a price from a basement refinishing company with all electrical, new lighting, waterproof flooring and better quality materials than a general contractor could give. You can get a free basement evaluation from most basement finishing companies.